"Gotta Get ........Lots O' Irons in the Fire"
In the past few days I have had a plethora of FRUGAL DOINGS I hope you have been following along
INDEPENDENT CONTRACTOR.
The IRS states that we are legally:
People such as lawyers, contractors, subcontractors and auctioneers who follow an independent trade, business, or profession in which they offer their services to the public, are generally not employees. However, whether such people are employees or independent contractors depends on the facts in each case.
The general rule is that an individual is an independent contractor if you, the person for whom the services are performed, have the
right to control or direct only the result of the work and not the means and methods of accomplishing the result.
These are my "means and methods" for the week:
Target
I went to the 90% off Christmas clearance sale at our local targets - 2 of them, I ended up buying some new stockings a few pins and 4 kids christmas baking sets. I paid ZERO out of pocket because I had a Target GC that I have been holding on to a while. AWESOME! I paid $14.xx for over $140 retail and out of pocket was ZERO I still have about $10 on the card too! I am "eyeing" the ping pong table that has been marked down to $99 ..............hopefully I will be able to "catch" it when it goes to about $50 or so.........and also use that $10 I have left to make it even betta!
Swagbucks
Cashed in for $10 in AMAZON GC this week! I also recruited my niece in law to join the program
she is a newbie and needs to get in the "swing" of things. Of course I have done several searches this week to collect points (at least once a day) and found a bonus code on their blog too! Mega Friday always rocks for extra points too!
Coke Rewards
saved a few coke points from the trash this week and added them to my account. Mind you I had to get "help" reading the code from Faith who has much younger eyes and can discern the letters and numbers much better than I can! :)
Hautelook
Just depleted my "reserves" here and made a big purchase. I had some credits that I spent
here to get a suitcase for us as the one we have had for the last 5 years is on its final leg. I can't wait to get it! :) paid $99 for it before my credits and $30 shipped afterwards. I tried to replace this one from the thrift store for many months (since our last trip) but was unsuccessful in securing one in better shape than what I have (thats really sad) that is large enough to accomodate.......so I bit the bullet and paid $30 for one that was listed as $400 value and designer too! If you are not a member why not? get signed up and get ready for the next sale if you have a membership in good standing and you refer a friend that makes a purchase you get $10. right now the designer blow out and the organizer sale is the best. ENJOY!
(hint: this site has hotel/ getaway sale events too)
Mr. Rebate
I requested my check from Mr. Rebates this week. It will come the first week of feb. directly to my paypal account. this is just like free money! (if you are just setting up a paypal account ......make your password unique , not one you use elsewhere and then also hook it up to
a bank account that is separate from you main household account. My check this month is $22.xx! :)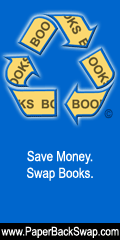 Paperback Book Club Swap
this is one of my very favorite free sites ~! its a service that allows you to list any books you have but don't want and collect points for each one requested and then collect points or credits to request books that you would like to read or collect! I have traded or swapped all of my "extra books" so I am now buying credits to use on the site to collect all of my favorite books since I was a teen! :) I am trying to collect the versions of the year that I would have read them in as well! WHAT A COOL SITE for a bibliophile like me! Join in the fun! This week two of my wish list books were "granted" and I have them enroute to me .........for free! (hint: you can fund or buy credits for your account via paypal once you are done trading your extras!)
Livewire
I completed a screener which qualified me for a survey here this week! I will be getting paid $5 fot the completion of a survey on "running shoes" that took me only 10 minutes to complete! If you figure out the "per hour" rate on this..........um ........... that is $30 an hour....... I think I would like that as a full time job ! "survey completer" paying $30 a hour, oh yea babe wish I could do an hour a day at least! :) More survey sites I like are located HERE
One Kings Lane
Another AWESOME designer sale site! this one allows you a $25 credit when someone you know that you refer makes a purchase! I had some $$ here from making referrals and was able to pay forward a gift to someone recently separated that was MINUS a clock in their study due to it! she is getting a very nice clock to replace the one that was there.........maybe even a better one! :) In addition I ordered some EXPENSIVE wine glasses (a complete set!) for myself.......... for FREE! now with that being said I am READY to get some more credits ! :) head on over there and sign up.........then refer your friends and family so you too can get a $25 credit to spend..........then wait patiently to find "just the right deal" to pay it forward or buy the item you have been wishing for ! HOW COOL IS THAT?
Modnique
birthdays are coming up for my daughters and I got them each a very beautiful "extra" gift here . AWESOME prices on jewelry and other items like BOOTS (ordered some for me a while back that I love) and Kelly scored a most awesome sequin tank for christmas that I paid a fraction of the retail value for! watch for the 80% off and more deals! wow.

... I have never done the "make offer" deals but I love what I have gotten and OH MY if your referrals make a purchase $100+ then you get a $15 referral credit. Shelly referred me and I had no problem making the $100+ for 6 gifts (reg. $600+) so she got the bonus! sign on up and wait for your SPECIAL DEAL to happen! CONTEST TO ENTER ON SITE TOO!
Half.com
I taught Butch how to sell on Half.Com over the Christmas holidays. He brought my old computer into the living room while he was off and and I gave him movies and video games that we no longer need to list. We had many that we had collected over time. We collected after fees about $240 total and we spent paypal money (not out of our bank accounts) to pay for the postage..........which was mostly reimbursed so pure "profit" to our bank accounts. (hope this makes sense)
There are "coupons" or discounts you can send to people who are "newbies" that are $5 off $10 purchase.
If you are newbie and never used half.com let me know (send me a message either here or on facebook)
and I can send you a coupon and I will also get one too! details from site:
half.com
and are getting ready to list more items in the upcoming weeks.
Comcast:
we have comcast. we have comcast for cable and internet. It is expensive, there is no choice of services here but the good news is that they honor "specials" because Direct TV is a competitor even if no one else is...... DirectTV is not for me but some people opt for it as an alternative. I have been on "special rate" for many months now and all of the sudden full price kicked back in and it took a "nano-second" for us to notice. I called Comcast today to get back on the "specials" and saved $60 a month........until the next time. It is still expensive but the savings is over $700 a year.
Craigslist.org
I sold a couple of items this week on Craigslist totally $65. Over the Christmas Holiday I sold over $100 on Craigslist with no fees. While I have had success selling on Craigslist I have never found anything that I wanted to buy. I have looked for things there but everything I have looked for has been overpriced so I try not to do the same. I price things at what I would want to pay for them. I love the site and if you use it wisely and make your deals with purpose and guidelines there is no reason to be worried. I meet at a local Sheetz for most items , its public, very busy and security cameras are everywhere. I deal with Cash Only and do not communicate by phone, only email. I hope these hints help you to be successful too. I have had friends successfully rent homes and purchase items through this venue as well.
Rue La La
I had a credit here and you may as well? I was lucky enough to pay only $9.95 for the shipping on two bottles of wine directly to my house. This wine sells for $65 a bottle and was on the site for $40 and I had a $30 credit. so $20 for 2 bottles of $65 a bottle wine, can you say "live lavishly for less?" the single bottles are no longer on the site and there are only a few options left there were 10 options 2 days ago. In any case if you have credits here DONT LET THEM EXPIRE! :) they do ya know? the "sign up credits" expired the end of 2010.
Survey Savvy
requested a check today , its been a long while since I have and I have been "collecting" so I had $35 in my account! :) this is one of my very favorite survey sites. You should have a separate email account for survey sites and screeners and should only sign up for those that you KNOW to be reputable........ not everyone you get invited too, there are many that are not worth the time and effort required to collect very little if anything , and send you tons of spam. I have a "rating" scale on
my site here
that you can check out and ALL of them are reputable. the problem is that I have not updated this page in a long while so there may be some broken links, but most should be in working order. In addition there are some newer reputable sites that are not listed there at all that should be. Hopefully this will all be "fixed" in the near future, in the mean time sign up for those that you are not affiliated with here and this should be a GREAT start for ya!
Sheetz
I redeemed a "punch card" this week for a free coffee and a free sandwich here. I go to sheetz often and keep the punch card in my car so I always have it. when you have "punched" so many you get a free one. If I see a friend in sheetz buying coffee or sandwich I always get them to "punch" for me as well if they are not going to! :) you wouldn't believe the amount of people that thinks this is a hassle to keep up with and don't mind if you get a punch for them :) when we went to WVA over the holidays (there were 2 sheetz in a few miles) between the racetrack and our hotel we stopped there several times a day, so I was loaded with "punches" :)
Mystery Shop
another page that I need to update but is a good start if you are a newbie. the links that are GOOD are GOOD , never pay or complete offers in order to get selected for Mystery Shops or get info about Mystery Shops, this should be free information without any "catches" to it. It is a legitimate way to make a few extra dollars, try a few different things and / or indulge in a few lavish activities in return for your opinion. I have been a mystery shopper for many years and have scaled way back in the past few years. I have become "picky" and only do a few select shops from time to time. there was a day when I was always raising my hand volunteering for ANY shops that I could do in order to get my name out there and make as much as possible but the fun left as the responsibility grew. Now-days I take a few "here and there" and this past week I accepted one of my faves for a FREE LUNCH for 2 in a week! yeaaaaaaaaaaaa
There are a few more things I did to save money this week but I have already overwhelmed you if you are a newbie and bored you if you are a seasoned freelancer, so I will stop for now. My hope is that you are inspired to do some FRUGAL DOINGS as a SAVINGS SPECIALIST and are enjoying the benefits of being a FREELANCER! :)